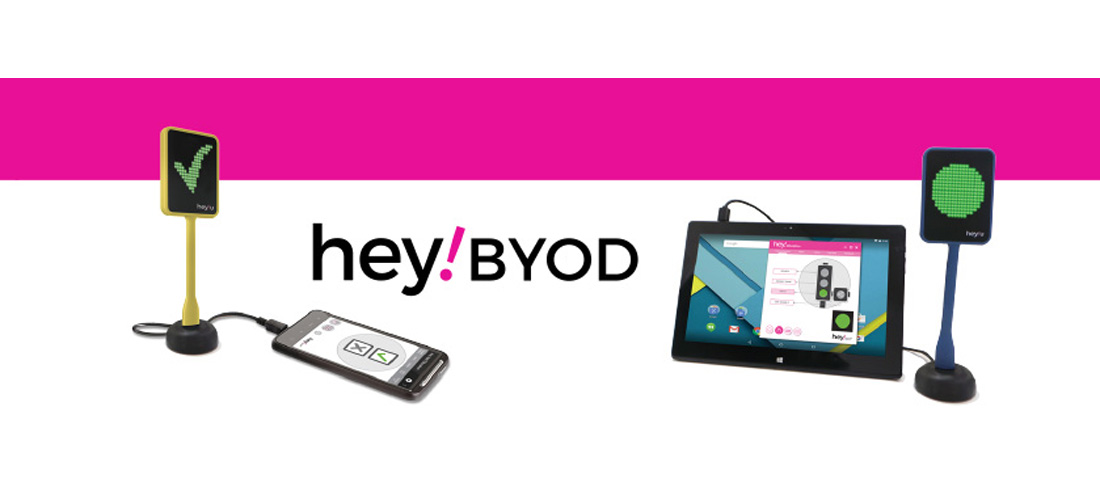 23 Jun

hey!tech will announce at ISTE the worldwide release of hey BYOD!

Madrid, June 2017 hey!tech will announce on 25th June at the ISTE educational event the worldwide release of hey! BYOD. This is the world's first gadget that allows teachers and students to improve their communication and interaction through a simple USB connected to any device, that will instantly add an extra screen to your device, enabling visual interaction with people around you. At last  you can BYOD or "Bring Your Own Device" with no problems and do this safely. hey! BYOD can be connected to all devices running the following OS: Windows, Android and Mac OS.
"As classes become more interactive it helps students see that the teacher can help them when needed, thus improving that essential teacher/student relationship"
said Simon Ryan, hey!tech´s Pedagogical Advisor.
"If a pupil is having difficulties understanding they can "digitally" raise their hand (a hand appearing on the LED panel): this is particularly useful for children with learning difficulties as frequently they have low self-esteem and try to avoid drawing attention to themselves"
adds Brian James Douglas, Marketing Director of hey!tech.
"Teachers, even with no or low IT experience, can have a clear and realistic answer to the question. "Class did you understand?" Instead of the recurrent and often fake "Yeeeeeeeesssss" now teachers can see at a glance that every student is participating and understand the lesson. The class is transformed into a game where everybody enjoys and gets a better experience. BYOD, or our new concept BWYH (Bring Whatever You Have), will accelerate the adoption of technology in class, transforming any device at home into an educational and interactive tool that can be used as a real supervision instrument and enhances communication and participation in the classroom",
Miguel Garcia, Creator and CEO of hey! Tech
With hey!U teachers can create more interactive classes where everybody participates and makes them easier to follow for students. The hey! screen is connected to the special educational software which includes comprehension exercises, test, participation and expression tools.
At a glance, and without internet access, the teacher can create interactive classes where all students can participate and express themselves. At the same time the teacher can verify the comprehension of the material being taught and adapt the pace of learning to suit each class.
UNDERSTANDING. Students can express in real-time whether they have understood a concept or subject or whether they didn't quite catch it.
PARTICIPATION Allows all students to participate equally during class.
EXPRESSION Students can express their viewpoint on a variety of issues presented by the teacher
ON OR OFF-TASK Teachers can ensure that students are using the correct application thanks to the app detector that will show what students are looking at.
Most of teachers are not experts in technology so hey! can help them to have
a better relationship with devices in the classroom, as they now can see when a student is on-task with the app detector, and without the need for WiFi or Internet (in the offline mode)
Pricing and Availability. Hey U! is now available at hey.school. Prices starts from $29 + tax.
About us. hey!tech is a Spanish company operating worldwide. You can find us at Hall 2 booth 127.
More info hey software | hey BYOD! at school | hey U! at University